Great Toilet Seat Discussion
We live in convoluted, disputable occasions. There is change surrounding us, and unfathomably differing feelings with regards to the suitable method to determine each issue. The "right" and the "left" can't concur on anything...except perhaps that they're both verifiably, sincerely dedicated to the rules that characterize them - whatever those might be.
Be that as it may, there stays one issue that is more fervently bantered than all others consolidated. I am discussing, obviously, men's emphasis on leaving the toilet seat up. For what reason wouldn't they be able to leave the damn things down simply?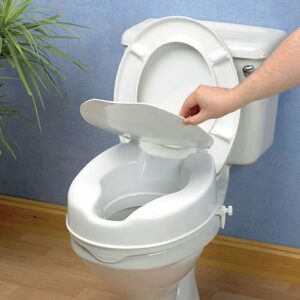 I hear you bristle. "Folks should bring down the toilet seat since it's simply the circumspect thing for them to do!" Agreed. It would be exceptionally chivalrous for us to do that for you.
Furthermore, also, it would be similarly circumspect for you to raised toilet seat with arms back up for the endless supply of your undertaking - for it requires about a similar measure of exertion to raise the seat as it does to bring down it. Ideally, this sort of correspondence bodes well. We deal with toilet seat situating for you, and you do likewise for us — everyone's upbeat.
This asks an essential inquiry: "Wouldn't it be less difficult and less confounding if every one of us were only in charge of setting the seat in the position that most appropriate our requirements, depending on others to do likewise?
What's more, shouldn't we acknowledge and have resistance for the physiological differences of others with whom we share our offices, recognizing their requirements might be different, however no less vital than our own?" It is an issue of shared rights and duties, with people having meet territory over the "seat of respect."
Shouldn't something is said about when I need to utilize the toilet during the evening, and I would prefer not to turn on the light. If the toilet seat is up, I'm adept to dunk my buns in the bowl.
That truly sucks, and it's not reasonable, 'cause folks don't have a similar issue." No, yet we have a different, similarly upsetting one. Valid, for us, pee can be practiced without being seated.
In any case, if we don't turn on the light and you've left the seat down, or more awful, the top, our stream is all of a sudden ricocheting toward each path, showering the substance of our bladder everywhere except in the bowl.
Furthermore, that leaves both us and the bathroom, impactful, soggy, and needing a decent scouring. So on account of evening time bathroom use, I figure we should all either turn on the light to decide seat introduction, or cautiously feel our way in obscurity, making certain the "facilities" are appropriate to our specific circumstance.
I trust this has helped resolve a standout amongst the most treacherous latrine clashes confronting us today.
Maybe this acknowledgment of assorted variety of necessities combined with moral duty will permit people everywhere to have the capacity to climate these "ups" and "downs" in a domain of pleasantness and universal regard. Furthermore, if we can effectively accomplish this sort of agreeable conjunction, could world harmony be a long ways behind?